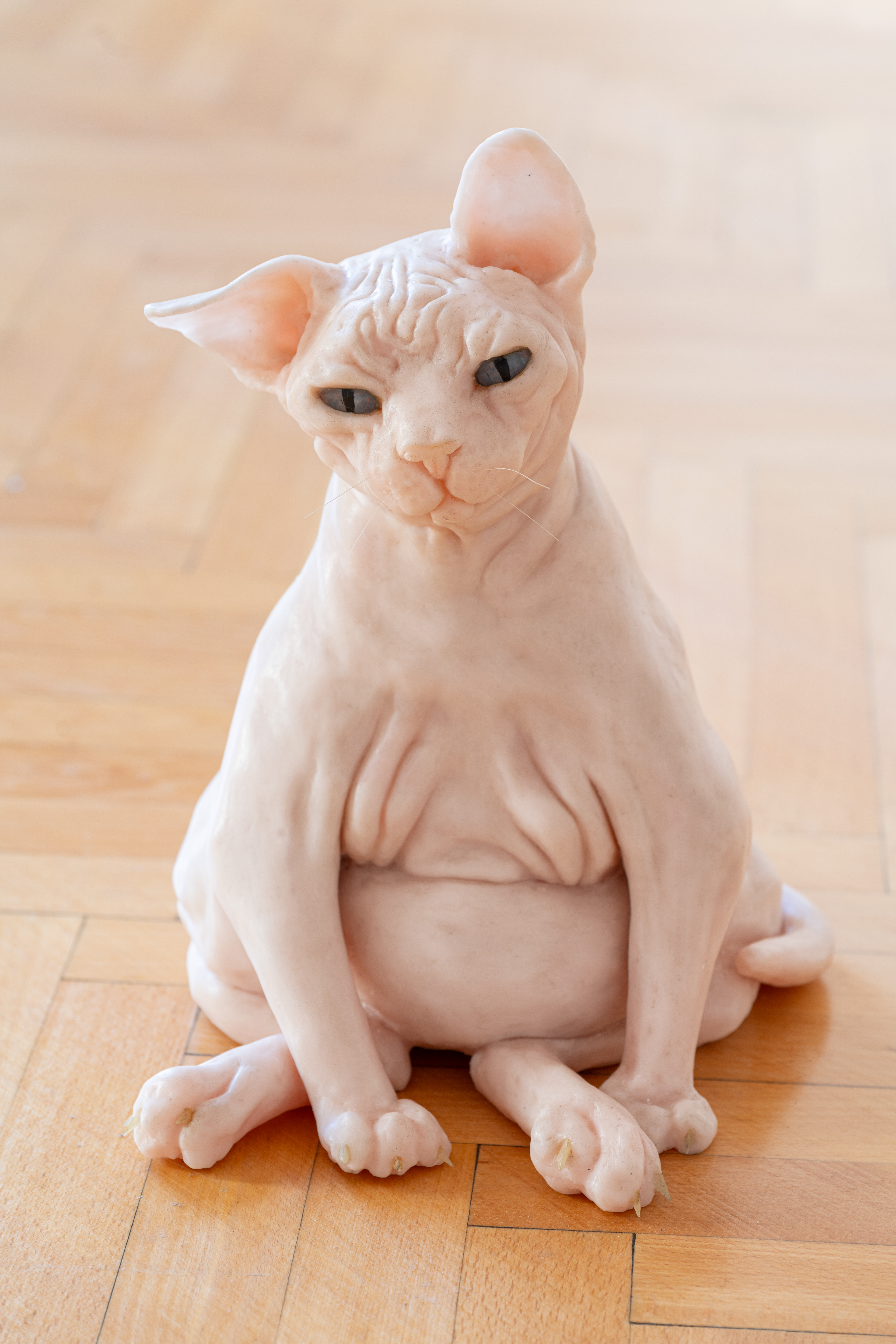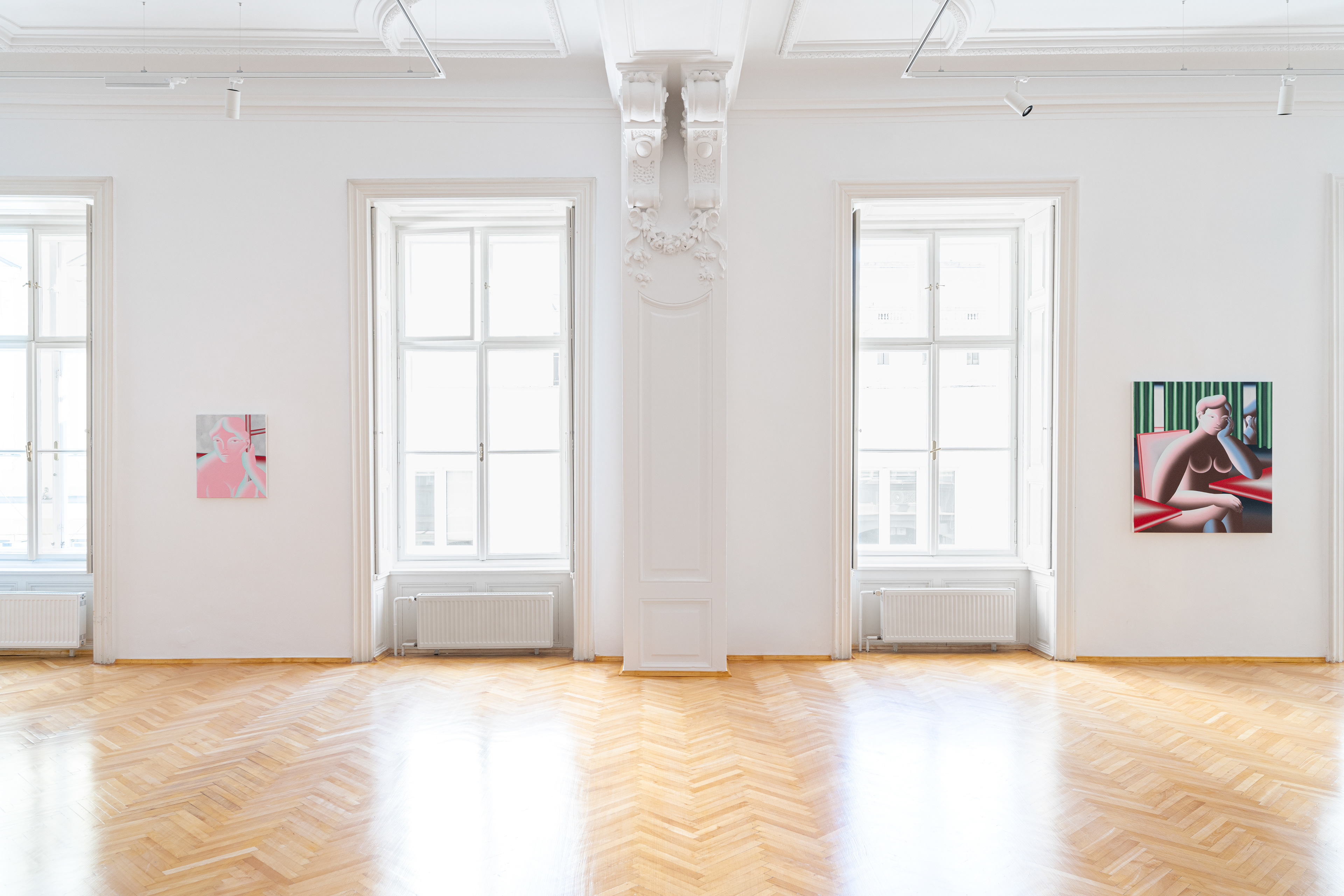 Many will no doubt attest the power of full moon to affect sleep patterns and lead to vivid, odd, even bizarre dreams. Insomnia, sleepwalking, mental overload, inner tension or peculiar behaviour are among possible common associated manifestations. Mythology and folklore link the full moon with magical elements, motifs of transformation, werewolves and vampires awakening. Committing a murder during full moon in 18th-century England, for example, would give leeway to plea insanity and seek a lesser sentence. Come what may, according to some studies, full moon actually affects the REM sleep, melatonin levels, and reduces overall sleep efficiency. 
The Full Moon Dreamers project is inspired by the atmosphere and narratives of distorted reality, while exploring and reflecting on current tendencies in contemporary European art. With painting and object made by international artists at its main focus, the project communicates a broader range of artistic approaches to constructing storylines and visual compositions. It naturally transverses from straightforward depictions and relatively legible objects of interest in the foreground (though nothing is as obvious as it may seem at first glance) to elaborate multi-layered visual collages harbouring diverse sources of inspiration. The core of the selection includes figurative motifs, bodily fragments or hints of material worlds. They draw us into plots that directly refer to personal experiences, original mythologies, allegories and symbols. The curatorial project, flirting with updated forms of surrealism represents a sheer inspiration by dreams or original mystifications that obscure reality and activate our subconscious. Slowly we float through sleepy surroundings, tensely uncovering mysterious, fanciful and intimate microworlds.
In Untitled (2019) by Zsófia Keresztes (1985, Budapest), pastel shades of pink, yellow and blue merge into a jagged gradient reminiscent of a body shell. Organic curves functionally represent physical features and disintegrate in a cluster of unidentifiable biomorphic shapes. Playful hints of human limbs or tentacles morph into a fluid sculptural object which offers a natural meeting point of the physical world with a reference to the virtual or surreal realm. Keresztes covers the objects with glossy mosaics of varying hues that bind the context of digital pixels while dynamising the cumbersome and chunky masses. She uses mystical figures to communicate her signature motifs of tears and principles of connection. Occasionally, the loosely thrown ropes transition into tight and suffocating scrummages, reinforcing a complex ambivalent atmosphere.
Titania Seidl (1988, Vienna) presents her visually and ideologically layered oil paintings that communicate a broad spectrum of inspiring sources including historical pre-images, intimate situations, her own observations and, more recently, real dreams (And all the wrakage in their wake, 2023). Be it monumental canvases or miniature paintings on wooden panels, Seidl creates an original twisted reality. The fragmentary records, abstracting motifs and decorative forms are reminiscent of a painterly collage, with each part having its real-life prototype taken out of a different context. We observe disturbing depopulated worlds, though with persisting human trace. The layered narratives and historicising nature arise from direct references. Seidl creates an imaginary memorial to an unknown painter of medieval manuscripts (the exact same sigh through our gritted teeth or the fantasy of ancestry, 2023), seeking inspiration in 19th- century Italian talismans and a Viennese Baroque plague column (30 digits to better read her scripts off their faces, 2023). Just as we struggle to decipher and understand complicated dreams, Seidl's works stimulate our subconsciousness and offer an experience of exploration.
Christof Mascher (1979, Hanover) features with Ghost Rida A2 (Berlin) (2016) – monumental oil on canvas that offers a complex world, unsettling in its ambiguity, similarly to the other works on display. The dreamy landscape painting combines the hustle and bustle of the motorway with abandoned romantic coves; we follow expressive gestures and colours, the artist's micro-stories and symbols. Mascher's paintings resemble book reading – the best way is to move from left to right, thus discovering brand new aspects and layers of the fantasy world in which he works with the subconscious dreaming. We observe delusional perspectives and mysterious, abandoned constructions. Some parts are quite tangible, whilst others are emerging like a memory from a moving train. Is it a real rail track or merely a model train? What about that tree in the centre of the highway? Is it real, or merely a product of microsleep during a night travel, when seated in the opposite direction of the motion?
An obese and overgroomed hairless cat sitting on the ground and staring into the void (Cat, 2015). This disturbing depiction represents a formal digression in the work of Adam Šakový (1987, Zvolen) – an artist with primary focus on conceptually tuned hyper- and photorealistic painting. He uses it to contemplate the possibilities of portraying and examining the depicted context, creating visual traps that support the ambiguity of the scenes. Šakový oscillates around the fine line between what is alive and what life merely resembles. On this occasion, the humorous interpretation also raises questions about the current environmental catastrophe. The selected painting from the latest Fire 6 (2023) series, which draws on the omnipresent and pervasive sense of work burnout, the endless flow of problem-solving missions or flares of interpersonal passions and emotions also feeds to the conflicting emotions. Šakový portrays an anonymous safe place with no danger of being burned, though with  no sense of comfort either. With a simple scene, he raises many questions and antagonistic feelings.
Eliška Konečná (1992, Dobřichovice) has developed an original style in a relatively short time: she combines traditional crafts, simple symbolism and allegorical narrative as communicated through stylised figurative compositions manoeuvring between the atmosphere of dream and awakening. She uses hand embroidery to build haptic textile reliefs that catch an eye with expressive physicality and intense materiality, while remaining subtle and ascertaining themselves against the traps of contemporary trends. In Green Vessel (2022), Konečná communicates an intimate scene of water reflection on a small surface of emerald velvet through soft, baroque-tinged concave–convex lines. In the recent period she has started to work with the metaphor of human being as a vessel shaped by external influences.
Hypnotic gazes of the robust figures in the works of Berlin-based painter Jinhee Kim (1990, Seoul) draw us into sleepy melancholy, emphasising the power of non-verbal communication. Simple figurative compositions depict female protagonists in unfamiliar spaces. The emphasis is on gestures, expressions and small interior details that are gradually uncovering the shells of the artist's fantasy world, raising many questions. The invisible line between joy and sadness, fulfilment and emptiness becomes significant; a kind of updated, gradually fading smile of Mona Lisa. Kim sculptures bodily volumes, with colour gradients, rigid geometry and invisible light sources.
Mnohí iste potvrdia, že spln mesiaca ovplyvňuje spánkové vzorce a vedie k živým, nezvyčajným až bizarným snom. Bežnými sprievodnými prejavmi môže byť nespavosť, námesačnosť, nervová preťaženosť, vnútorné vypätie či podivné správanie. V mytológii a folklóre sa mesačný spln spája s magickými elementmi, pridružené sú motívy transformácie, ožívajú vlkolaci a upíry. Napríklad, ak ste v Anglicku v 18. storočí spáchali vraždu počas splnu, mohli ste sa odvolať na šialenstvo a žiadať o nižší trest. Nech už je to akokoľvek, niektoré štúdie ukazujú, že spln skutočne ovplyvňuje fázu REM, hladinu melatonínu a celkovo znižuje efektivitu spánku. 
Výstavný projekt Full Moon Dreamers sa inšpiruje atmosférou a naratívmi pokrivenej reality, pričom skúma a reflektuje aktuálne tendencie v súčasnom európskom umení. Primárne sa zameriava na maliarsku a objektovú formu medzinárodne pôsobiacich autoriek a autorov a komunikuje širší diapazón umeleckých prístupov k budovaniu dejov aj vizuálnych kompozícií. Od priamych zobrazení a relatívne čitateľných objektov záujmu postavených do prvého plánu (samozrejme, nič nie je také jasné, ako sa môže na prvý pohľad zdať) prirodzene prechádza až ku komplikovaným viacvrstvovým vizuálnym kolážam ukrývajúcim rozličné inšpiračné zdroje. Selekcii dominujú prevažne figurálne motívy, telesné fragmenty či náznaky hmotných svetov, ktoré nás vťahujú do dejov priamo odkazujúcich na osobné skúsenosti, autorské mytológie, alegórie a symboly. Kurátorský projekt koketuje s aktualizovanými formami surrealizmu, predstavuje priamo inšpiráciu snami či autorské mystifikácie, ktoré funkčné zahmlievajú realitu a aktivizujú naše podvedomie. Pomaly poletujeme ospalým prostredím a napäto odkrývame tajomné, fantazijné a intímne mikrosvety. 
Pastelové odtiene ružovej, žltej a modrej farby sa v diele Untitled (2019) Zsófie Keresztes (1985, Budapešť) zlievajú do rozrastrovaného gradientu pripomínajúceho telesnú schránku. Organické krivky funkčne zastupujú fyzické znaky a rozpadajú sa v zhluku neidentifikovateľných biomorfných tvarov. Hravé náznaky ľudských končatín či chápadiel morfujú do fluidného sochárskeho objektu, v ktorom sa prirodzene stretáva fyzický svet s odkazom na svet virtuálny či surreálny. Autorka pokrýva objekty lesklými mozaikami rozličných odtieňov, ktoré na seba viažu kontext digitálnych pixelov a zároveň dynamizujú ťažkopádne a zavalité hmoty. Prostredníctvom mystickej postavy komunikuje svoje typické motívy sĺz a princípy spojenia. Voľne pohodené laná miestami prechádzajú do tesných a dusivých skrumáží a podporujú komplexnú ambivalentnú atmosféru.
Vizuálne a ideovo navrstvené olejomaľby Titanie Seidl (1988, Viedeň) komunikujú široké spektrum inšpiračných zdrojov zahŕňajúcich historické predobrazy, intímne situácie, vlastné pozorovanie a po novom aj skutočné sny (And all the wrakage in their wake, 2023). Či už sú to monumentálne plátna, alebo drobné maľby na drevených doskách, Seidl vytvára originálnu pokrútenú realitu. Fragmentárne záznamy, abstrahujúce motívy a dekoratívne formy pripomínajú maliarsku koláž, v ktorej má každá časť svoj reálny predobraz vytrhnutý z iného kontextu. Sledujeme znepokojivé vyľudnené svety, v ktorých je však stále prítomná ľudská stopa. Navrstvené naratívy a historizujúci charakter sú výsledkom priamych citácií. Autorka vytvára pomyselný pamätník neznámej maliarke stredovekých rukopisov (the exact same sigh through our gritted teeth or the fantasy of ancestry, 2023), inšpiruje sa talianskymi talizmanmi z 19. storočia a viedenským barokovým morovým stĺpom (30 digits to better read her scripts off their faces, 2023). Podobne, ako sa snažíme dešifrovať a pochopiť komplikované sny, Seidlovej diela stimulujú naše podvedomie a ponúkajú zážitok zo skúmania. 
Monumentálna akrylovo-olejová maľba Christofa Maschera (1979, Hannover) Ghost Rida A2 (Berlin) (2016) ponúka komplexný svet, ktorý však podobne ako ostatné vystavené diela znepokojuje svojou nejednoznačnosťou. Snová krajinomaľba v sebe spája ruch diaľnice s opustenými romantizujúcimi zákutiami, sledujeme expresívne gestá a farebnosť, autorské mikropríbehy a symboly. Mascherove obrazy je, rovnako ako knihy, ideálne čítať zľava doprava. Postupne objavujeme nové aspekty a vrstvy fantazijného sveta, v ktorých cielene pracuje s podvedomým snívaním. Pozorujeme klamlivé perspektívy a tajomné opustené stavby. Niektoré časti sú konkrétne, iné sa vynárajú ako spomienka zachytená z idúceho vlaku. Vidíme skutočnú železničnú trať alebo len hračkársky model? Čo robí strom v strede diaľnice? Je reálny alebo je dôsledkom mikrospánku počas nočného cestovania v opačnom smere jazdy? 
Rušivé zobrazenie obéznej a prešľachtenej bezsrstej mačky, ktorá sedí na zemi a pozerá do prázdna (Cat, 2015), predstavuje v tvorbe Adama Šakového (1987, Zvolen) formálne vybočenie. Autor venujúci sa primárne konceptuálne ladenej hyper- a fotorealistickej maľbe, prostredníctvom ktorej uvažuje o možnostiach zobrazovania a vyhodnocovania zobrazených súvislostí, vytvára obrazové pasce podporujúce nejednoznačnosť výjavov. Osciluje okolo tenkej hranice medzi tým, čo je živé, a tým, čo život len pripomína. Úsmevné stvárnenie tentoraz otvára aj otázky týkajúce sa aktuálnej environmentálnej katastrofy. K protichodným emóciám prispieva aj výber obrazu z najnovšej série Fire 6 (2023), v ktorej čerpá zo všadeprítomného pocitu pracovného vyhorenia, nekonečného hasenia problémov či vzbĺknutia medziľudských vášní. Šakový zobrazuje anonymné bezpečné miesto, kde síce nehrozí popálenie, ale ani komfort. Jednoduchou scénou otvára mnoho otázok a antagonistických pocitov. 
Eliška Konečná (1992, Dobřichovice) si za relatívne krátky čas vytvorila originálny autorský jazyk, v ktorom spája tradičné remeslá, jednoduchú symboliku a alegorický naratív komunikovaný prostredníctvom štylizovaných figurálnych kompozícií manévrujúcich medzi snovou a bdelou atmosférou. Haptické textilné reliéfy, ktoré buduje ručnou výšivkou, pútajú pozornosť výraznou telesnosťou a intenzívnou materialitou, zároveň však zostávajú subtílne a vymedzujú sa nástrahám súčasných trendov. Na malej ploche smaragdového zamatu v diele Zelená nádoba (2022) mäkkými, barokovo ladenými konkávno-konvexnými líniami komunikuje intímnu scénu odrazu na hladine vody. Autorka v ostatnom období vedome pracuje s metaforou človeka ako nádoby, ktorá je výsledkom vonkajších vplyvov. 
Hypnotické pohľady robustných postáv v dielach v Berlíne pôsobiacej maliarky Jinhee Kim (1990, Soul) nás vťahujú do atmosféry ospalej melanchólie a zdôrazňujú silu neverbálnej komunikácie. Jednoduché figurálne kompozície zobrazujú hlavné predstaviteľky v neznámych priestoroch. Dôraz je na gestách, výrazoch a drobných interiérových detailoch, ktoré postupne odkrývajú škrupinky autorkinho fantazijného sveta otvárajúceho mnoho otázok. Signifikantná je neviditeľná hranica medzi radosťou a smútkom, naplnením a prázdnotou. Akýsi aktualizovaný postupne sa strácajúci úsmev Mona Lisy. Kim buduje telesné objemy sochárskym spôsobom, farebnými gradientmi, rigidnou geometriou a neviditeľnými svetelnými zdrojmi.